At Stego, we know every project has its own unique challenges. In this guide, you will gain helpful installation tips for successfully sealing the terminating edges of the below-slab vapor barrier at the slab perimeter. To make a Stego® Wrap installation easy and flexible, we offer a great line of accessory items to give you options to accomplish an effective perimeter seal that meets ASTM E1643*.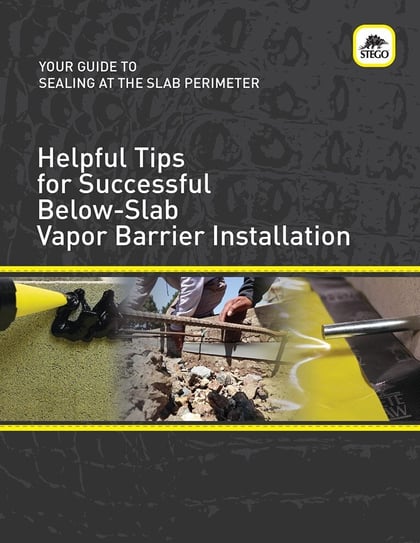 Stego Perimeter Sealing Accessories
Stego® Mastic - A liquid vapor retardant membrane, designed to be used with Stego Wrap, for sealing utility and pipe penetrations and terminating edges.
StegoTack® Tape - A double-sided adhesive strip used to bond and seal Stego Wrap to concrete, masonry, wood, metal, and other surfaces.
Stego® Crete Claw® Tape - A multi-layered tape/detail strip that will mechanically seal Stego Wrap Vapor Barrier to concrete cast against it.
To download your
free guide,
simply fill out the form

Available Nationwide - Local Support
Beyond the excellent product performance, Stego Wrap is supported by an industry-leading network of Stego Representatives and stocking distributors.
*If ASTM E1643 is specified, consult with the project architect and structural engineer to determine which perimeter seal technique should be employed for the project.