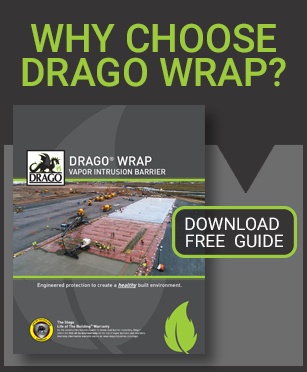 Drago Sealant comes in a 1.8-gallon kit size, consisting of Part A (Resin) and Part B (Hardener). Pour Part B into Part A, mix well, and immediately place around pipe penetrations to create a seal. Use in conjunction with Drago Sealant Form to efficiently and effectively cover the penetrated area.
APPLICABLE STANDARDS American Society for Testing & Materials (ASTM):
ASTM D412: Test Method for Vulcanized Rubber and Thermoplastic Elastomers
ASTM D2240: Test Method for Rubber Property – Durometer Hardness
ASTM D790: Test Methods for Flexural Properties of Unreinforced and Reinforced Plastics and Electrical Insulating Materials
ASTM D4541: Test Method for Pull-Off Strength of Coatings Using Portable Adhesion Testers
ASTM E96: Test Methods for Water Vapor Transmission of Materials
ASTM D4060: Test Method for Abrasion Resistance of Organic Coatings by the Taber Abraser
ASTM D471: Test Method for Rubber Property – Effect of Liquids
ASTM D543: Standard Practices for Evaluating the Resistance of Plastics to Chemical Reagents
Physical Properties:
Elongation: 550-600%
Tensile Strength: 2,000 +/- 100 psi
Compressive Strength: 8,800 psi
Hardness, Shore D: 52
Flexural Strength: 4,700 psi
Bond to Concrete: 350 psi
Water Vapor Permeance: 0.027 perms @ 20-mils
Taber Abrasion: 75-80 Mgs
Chemical Resistance: No significant change to mass or volume
Product Benefits:
Stego Industries, LLC is the exclusive Representative for all products, including Drago® Wrap and accessory products, owned by Stego Technology, LLC, a wholly independent company from Stego Industries, LLC. Drago, the Drago logo, and DragoTack are deemed to be registered and/or protectable trademarks of Stego Technology, LLC. © 2017 Stego Industries, LLC. All Rights Reserved. Installation and Warranty Information:
www.stegoindustries.com/legal.