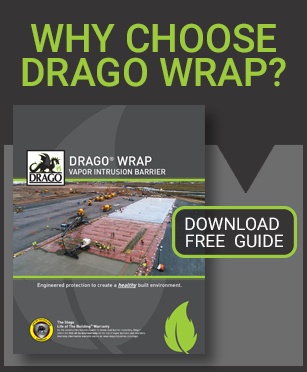 DragoTack Tape has both great initial tack and long-term adhesion, allowing this double-sided adhesive strip to effectively secure terminating edges of Drago Wrap.
APPLICABLE STANDARDS American Society for Testing & Materials (ASTM):
ASTM F1249: Test Method for Water Vapor Transmission Rate through Plastic Film and Sheeting Using a Modulated Infrared Sensor
ASTM D471: Test Method for Rubber Property – Effect of Liquids
ASTM D543: Standard Practices for Evaluating the Resistance of Plastics to Chemical Reagents
Physical Properties:
Total Thickness: 30 mils
Dimensions: 2" x 50'
Water Vapor Permeance: 0.03 perms
Color: Gray
Material: Synthetic rubber blend
Chemical Resistance: No significant change to mass or volume (see data sheet)
Product Benefits:
Stego Industries, LLC is the exclusive Representative for all products, including Drago® Wrap and accessory products, owned by Stego Technology, LLC, a wholly independent company from Stego Industries, LLC. Drago, the Drago logo, and DragoTack are deemed to be registered and/or protectable trademarks of Stego Technology, LLC. © 2017 Stego Industries, LLC. All Rights Reserved. Installation and Warranty Information:
www.stegoindustries.com/legal.