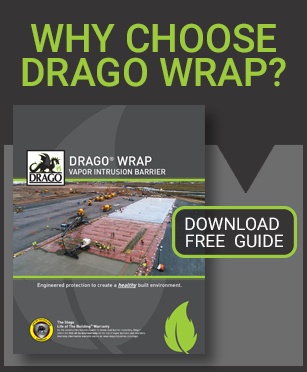 Since this product is not made with recycled materials and instead uses prime, virgin resins, the vapor barrier will provide strength and durability while greatly resisting degradation.
The Drago Wrap Vapor Intrusion System also includes accessories which are specifically designed for a fully intact, dependable installation: Drago Tape, DragoTack Tape, Drago Sealant, and Drago Sealant Form. Using these products enables an efficient installation, saving time and resources while maintaining the integrity of the vapor intrusion barrier system.
APPLICABLE STANDARDS American Society for Testing & Materials (ASTM):
ASTM E1745: Standard Specification for Water Vapor Retarders Used in Contact with Soil or Granular Fill Under Concrete Slabs
ASTM F1249: Test Method for Water Vapor Transmission Rate through Plastic Film and Sheeting Using a Modulated Infrared Sensor
ASTM D4833: Test Method for Index Puncture Resistance of Geotextiles, Geomembranes, and Related Products
ASTM D882: Test Method for Tensile Properties of Thin Plastic Sheeting
ASTM D1709: Test Method for Impact Resistance of Plastic Film by Free-Falling Dart Method
ASTM E154: Test Methods for Water Vapor Retarders Used in Contact with Earth Under Concrete Slabs, on Walls, or as Ground Cover
ASTM D1434: Test Method for Determining Gas Permeability Characteristics of Plastic Film and Sheeting
Physical Properties:
Under-Slab Vapor Retarder: ASTM E1745 Compliant
Water Vapor Permeance: 0.0069 perms
Push-Through Puncture: 183.9 Newtons
Tensile Strength: 53.5 lbf/in
Hydrocarbon Attenuation Factors
Chlorinated Solvent Attenuation Factors
Methane Transmission Rate: 7.0 GTR (mL(STP)/m2*day)
Radon Diffusion Coefficient: 9.8 x 10-14 m2/second
Product Benefits:
Available nationwide

Designed to be installed below concrete slabs in commercial, residential, and industrials applications

Efficacy testing for hydrocarbons, chlorinated solvents, water vapor, methane, and radon

Exceptional durability as a result of robust physical properties

Resists deterioration

Low maintenance needed

Simple, dependable installation

Drago Wrap Limited Warranty
Stego Industries, LLC is the exclusive Representative for all products, including Drago® Wrap and accessory products, owned by Stego Technology, LLC, a wholly independent company from Stego Industries, LLC. Drago, the Drago logo, and DragoTack are deemed to be registered and/or protectable trademarks of Stego Technology, LLC. © 2017 Stego Industries, LLC. All Rights Reserved. Installation and Warranty Information:
www.stegoindustries.com/legal.