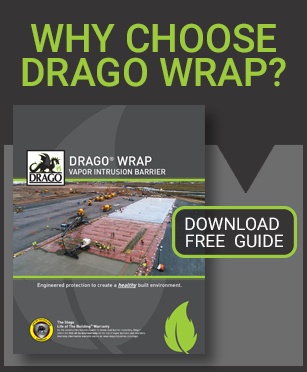 When ready to install, simply remove the release liner and press Drago Sealant Form firmly against Drago Wrap to secure, ensuring that it is continuously around the entire perimeter of the penetration(s).
Physical Properties:
Dimensions: ½" x ½" x 24"
Color: White
Material: Low-density, closed-cell polyethylene foam with an acrylic, pressure sensitive adhesive
Weight: 0.11 oz (3.1 grams)
Product Benefits:
Available nationwide

Easy installation

Low maintenance needed

Reduces potential waste of Drago Sealant

Tested and approved for use with the innovative Drago Wrap Vapor Intrusion Barrier
Stego Industries, LLC is the exclusive Representative for all products, including Drago® Wrap and accessory products, owned by Stego Technology, LLC, a wholly independent company from Stego Industries, LLC. Drago, the Drago logo, and DragoTack are deemed to be registered and/or protectable trademarks of Stego Technology, LLC. © 2017 Stego Industries, LLC. All Rights Reserved. Installation and Warranty Information:
www.stegoindustries.com/legal.