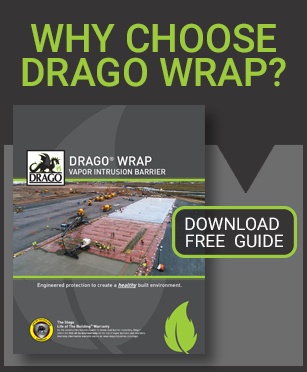 This product is engineered to bond specifically to Drago Wrap. With both great initial tack and long-term adhesion, this barrier tape effectively secures seams and seals pipe penetrations.
APPLICABLE STANDARDS American Society for Testing & Materials (ASTM):
PSTC 101: International Standard for Peel Adhesion of Pressure Sensitive Tape
PSTC 107: International Standard for Shear Adhesion of Pressure Sensitive Tape
ASTM F1249: Test Method for Water Vapor Transmission Rate through Plastic Film and Sheeting Using a Modulated Infrared Sensor
ASTM D882: Test method for Tensile Properties of Thin Plastic Sheeting
Physical Properties:
Total Thickness: 6 mils
Dimensions: 3.75" x 180'
Water Vapor Permeance: 0.058 perms
Tensile Strength: 84.1 lbf/in
Elongation (at break): 765%
Adhesion (PSTC 101 20-min dwell to Drago Wrap): 98.8oz/in
Product Benefits:
Stego Industries, LLC is the exclusive Representative for all products, including Drago® Wrap and accessory products, owned by Stego Technology, LLC, a wholly independent company from Stego Industries, LLC. Drago, the Drago logo, and DragoTack are deemed to be registered and/or protectable trademarks of Stego Technology, LLC. © 2017 Stego Industries, LLC. All Rights Reserved. Installation and Warranty Information:
www.stegoindustries.com/legal.