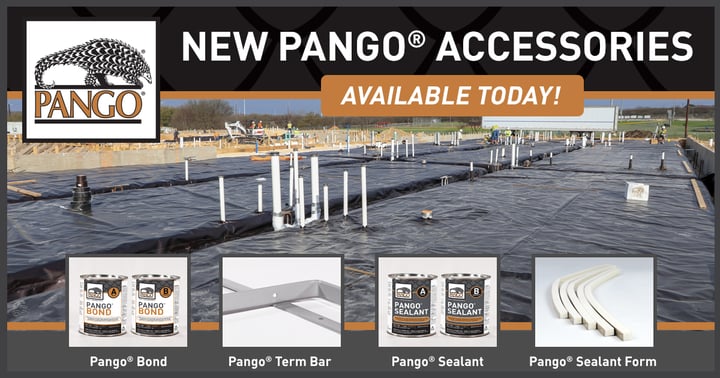 Stego Industries*, the exclusive representative for Pango Wrap Termite/Vapor Barrier, is proud to announce the launch of new accessory products that will add to the full protection of the product line as a physical barrier against subterranean termites:
PANGO® BOND: a two-component, non-sagging sealant, Pango Bond provides installers with a powerful adhesive to seal the terminating edge of their installation in accordance with ASTM E1643, the industry standard for below-slab vapor barrier installation. Pango Bond's highly workable consistency makes pipes and other tough penetrations far easier to seal from water vapor diffusion. The accessory item is solvent free, 100 percent solids, and a physical barrier against subterranean termites.
PANGO® TERM BAR: when used with Pango Bond, Pango Term Bar can be used to mechanically secure Pango Wrap to concrete and masonry constructions in various sealing conditions.
PANGO® SEALANT with PANGO® SEALANT FORM: a two-component epoxy sealant, Pango Sealant – when used with Pango Sealant Form – provides a self-leveling sealing solution for the toughest groups of pipe penetrations found on most job sites. Pango Sealant consists of 100 percent solids and contains 0 g/l of volatile organic compounds (VOC).
These new offerings join the line of Pango Wrap accessories, which also include Pango Tape (for sealing seams) and Pango Claw (for creating a mechanical bond to concrete, sealing the terminating edge). The new accessory products will greatly ease installation on slab-on-grade construction projects seeking a physical termite barrier, improve protection around termite intrusion pathways, and expand the application of Pango to include crawl space encapsulations.
WATCH VIDEO: How-to-Install Pango Wrap Termite/Vapor Barrier
"We've worked tirelessly to source, engineer and test these new accessories to maximize their efficacy for our stakeholders: the concrete contractors, crawl space encapsulation contractors and pest control operators who work with our products every day, with the end goal of giving homeowners and building owners peace of mind" said Ryan Goodwin, Stego's National Product Manager for the Pango product line."
Pango Wrap is backed by a first-in-the-industry Life of the Building™ warranty. Additionally, because installation is a critical component, stakeholders can also call upon Stego's vast network of full-time technical experts through its Installation Support program, an unmatched level of service in the market for project teams looking for submittal documentation, training and project support. This valuable program is offered free of charge when certain conditions are met.
The new accessories – as well as the entire product line – are available for purchase through Stego's network of distributor locations across North America or online.
---
Quickly Access These Resources to Help with Your Next Pango Job
---
MEDIA CONTACT
STEGO COMMUNICATIONS
949.257.4100
ABOUT STEGO
STEGO INDUSTRIES, LLC is a leader in the below-slab vapor barrier industry. The most-specified vapor barrier in the United States, Stego earned this distinction across North America by earning the respect, trust, and recommendation of the design, engineering and construction communities. Our game-changing barrier solutions are a critical component in the design and construction of efficient, durable and healthy buildings. Stego Industries provides science-based solutions, field-tested results, and strategic speed to market from its 100% solar-powered headquarters in San Clemente, California.
---