SAN CLEMENTE, Calif. – Stego Industries employees have joined the global network of hunger champions.
Joined by the company's ownership, a group of Stego employees representing every department and sales region of the company assembled 15,120 meals in a meal packaging event for Rise Against Hunger, a global non-profit organization driven by the vision of a world without hunger.
The event, underwritten by a monetary donation by the company, saw employees organize into an assembly line to bag, weigh and pack nutritious meals of rice and soy to be distributed through Rise Against Hunger's global network of partner organizations.
The enthusiastic group needed less than three hours to complete the feat.
"Stego employees amaze me every day with their enthusiasm and care for a better world," said Stego Industries Founder Paul J. Blasdel. "I am just as humbled by their efforts to help end global hunger as I am by their work in our industry to make buildings healthier."
The event also provided the backdrop for the company's 2019 Message of Gratitude to its stakeholders throughout the construction world. Stego employees took turns sending thanks to members of the design and building communities who specify and install Stego's products; its network of distributors, who supply the industry; and its vendors, freight carriers and other logistical stakeholders who bind Stego's business operations together.
"I wish I could thank every stakeholder individually for their contribution to our success in 2019," Blasdel said. "When I was building this organization out of my garage in California, I could have never imagined the ways these stakeholders would magnify what the company is today."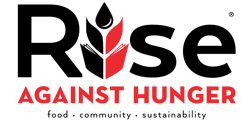 Since 2005, volunteer groups have packaged more than 500 million meals for Rise Against Hunger, serving 77 coutnries. To learn more:
riseagainsthunger.org
.
MEDIA CONTACT
STEGO COMMUNICATIONS
949.257.4100
ABOUT STEGO
STEGO INDUSTRIES, LLC is a leader in the below-slab vapor barrier industry. The most-specified vapor barrier in the United States, Stego earned this distinction across North America by earning the respect, trust, and recommendation of the design, engineering and construction communities. Our game-changing barrier solutions are a critical component in the design and construction of efficient, durable and healthy buildings. Stego Industries provides science-based solutions, field-tested results, and strategic speed to market from its 100% solar-powered headquarters in San Clemente, California.
---