Happy Earth Day from Stego Industries!
Prove yellow can be green: it's a simple mantra we've shared in some of Stego's sustainability efforts over the years. As a company, we have always wanted to bring innovation and integrity to everything we do. In honor of Earth Day, we want to share what we are doing to activate an environmental impact on our precious earth.
Rethinking How Our Products Can Be Sustainable
Stego® Wrap vapor barriers and retarders, in fact, were invented to solve the human health issues associated with unchecked below-slab water vapor and soil gas intrusion, which have plagued the building industry in the form of mold and other indoor air quality issues for years.
Each time we have expanded our product lines, we have sought to create solutions addressing other sustainability issues like:
Durability,
Human health, and
Environmental impacts.
This has led to cleaner residential crawl spaces, an NGBS Green-Certified physical termite barrier that may reduce or eliminate the need for harmful termiticides and chemicals, and a vapor intrusion barrier that can mitigate against the harmful effects of contaminated brownfield sites while helping to redevelop these abandoned sites for better use.
These efforts have always been made with the acknowledgement that our company markets petroleum-based products. Knowing that the world's petroleum supply is a finite resource, we strive to make our products the best use of those resources by focusing on product characteristics like durability and longevity.
Walking the Walk with Corporate Responsibility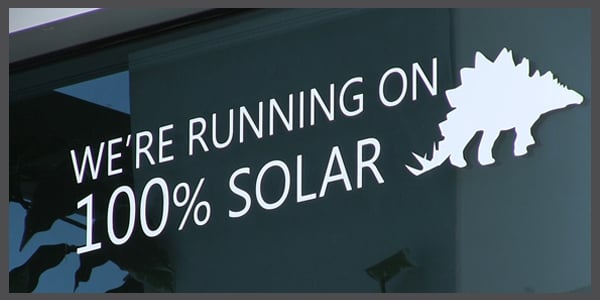 The work does not stop, however, with our products. Stego intends to "walk the walk" in our industry and in our business activities with a variety of corporate sustainability efforts:
Operating its headquarters in San Clemente, California, on 100% solar power since 2010, producing more than 253 Megawatt/Hours of clean solar electricity in just the past six years
Serving as a pilot manufacturer in the Health Product Declaration Collaborative since its inception, contributing to the open standard with the goal of material transparency
Providing our employees a vehicle purchase incentive to upgrade their work-use vehicles to more efficient choices
Aligning a Sustainability Program with a Real-World Solution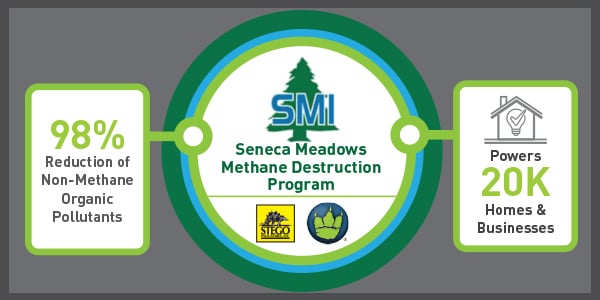 On this Earth Day, we wanted to showcase another corporate responsibility effort we have committed to since 2013: offsetting the carbon dioxide emissions created by our company's air travel.
Stego's Green Team – a group of thought leaders and executives that spans each of Stego's business divisions – agreed in 2011 that offsetting the carbon emissions of our air travel was a relatively simple, yet substantive, corporate sustainability measure.
Since then, Stego Technical Director, Dan Marks, has gathered representative data from a sample of Stego employees to model a forecast of the miles we fly each year and the metric tons of carbon dioxide this air travel produces. The six-year data set produced a remarkably consistent metric: for every mile a Stego employee flies, they release almost exactly 0.4 pounds of carbon dioxide into the atmosphere.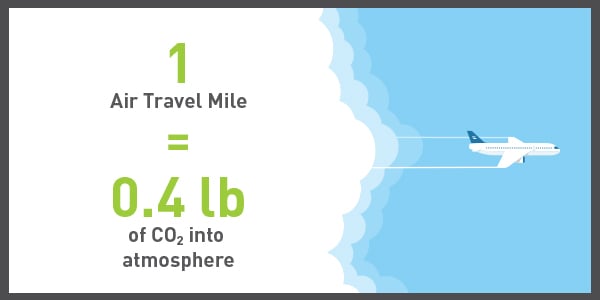 In the seven years since the program's inception, Stego has purchased offsets for nearly 800 metric tonnes of carbon dioxide through the Terrapass program.

In 2019, we've moved toward aligning our offsets with our corporate mission. The Seneca Meadows Landfill in Seneca Falls, New York provides Stego the opportunity to offset its carbon emissions for 2018 while also destroying a harmful soil gas to produce electricity.

Not only does the offset align with Stego's product goals of protecting against soil gases, but Seneca Meadows takes the same systems-approach to solving problems that we do. The site's methane destruction program powers 20,000 homes and businesses, then flares any excess methane to reduce pollutants by 98 percent. The programs' methane destruction fits into a wholistic landfill project that also hosts:
a LEED-certified education center
a wetlands-preserve that protects more than 200 species of birds
seven miles of trails for the public to use
tire, residential and e-waste recycling
Bringing Sustainability Full Circle with New Product Development
Methane represents a new frontier in the range of soil gases and other dangers that Stego works on every day to mitigate with its below-slab barrier products. Drago® Wrap vapor intrusion barrier has a Los Angeles Research Report (LARR) and can help protect the concrete slab against methane diffusion into the building envelope.
The occasion of Earth Day always provides a great opportunity to reflect on sustainability efforts but should never encompass only one day of work. At Stego, those efforts are not a side project but a part of our mission: to research, design, develop, and distribute the highest quality construction products in the industry with a steadfast commitment to marketing with integrity and ethics, while providing solutions through education to help sustain the built environment.
We're dedicated to making every effort to impact our planet and its people in a positive way. That's what we believe corporate responsibility is about – on Earth Day and every day.
MEDIA CONTACT
STEGO COMMUNICATIONS
949.257.4100
ABOUT STEGO
STEGO INDUSTRIES, LLC is a leader in the below-slab vapor barrier industry. The most-specified vapor barrier in the United States, Stego earned this distinction across North America by earning the respect, trust, and recommendation of the design, engineering and construction communities. Our game-changing barrier solutions are a critical component in the design and construction of efficient, durable and healthy buildings. Stego Industries provides science-based solutions, field-tested results, and strategic speed to market from its 100% solar-powered headquarters in San Clemente, California.
---
---