Concrete Construction Meets the High Demands of Warehouse Design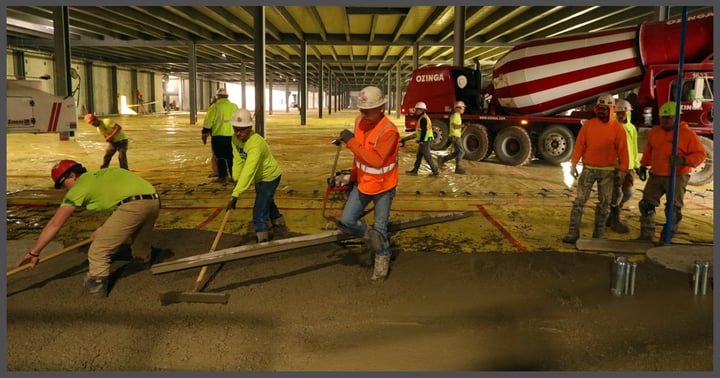 Lewis Construction Chooses Stego® Wrap as Critical Component in Hi-Tech Fulfillment Center Project
After 35 years in the concrete construction industry, Steve Lewis has seen dramatic changes in best practices and even bigger leaps in technology.
But nothing may compare to the recent changes the industry has seen to meet the high demands of 21st Century warehouse design: flatter floors, extended joints – anything to make fulfillment, logistics and robotics move more smoothly.
"Starting out many years ago, if you had a Floor Flatness [FF] that was 30, you were doing pretty well. Now you have a customer demanding FF-50," Lewis said. "If you're going to get into this market now, it would take millions of dollars of capital investment."
Lewis Construction, Inc. was able to take advantage of this market opportunity because those investments had been made carefully over the decades of his Schofield, Wisc., family-owned company's history: a commitment to current technology in their equipment and continued education of their crews.
When a two-million-square-foot fulfillment center broke ground in the Milwaukee Metro Area in late 2019, Lewis Construction was an obvious choice. And one of the technological advancements they have adopted over the decades was sure to come with them: Stego® Wrap Vapor Barrier.
The Project: A High-Performance Floor in a Fulfillment Center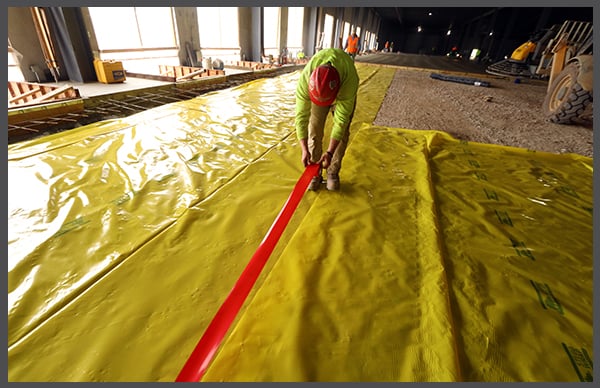 Achieving a high-performance floor suitable for robotics requires first-class slab design and carefully selected materials even before concrete mixture. Lewis' site preparation and grading included a very dense base -- even granular fill allows too much moisture to diffuse upward from the subgrade.
Then, in order to take the ground completely out of play, a low-permeance vapor barrier or retarder must completely seal the slab. The ideal material would meet ASTM E1745 Class A performance criteria.
The Solution: Stego Wrap and Stego Tape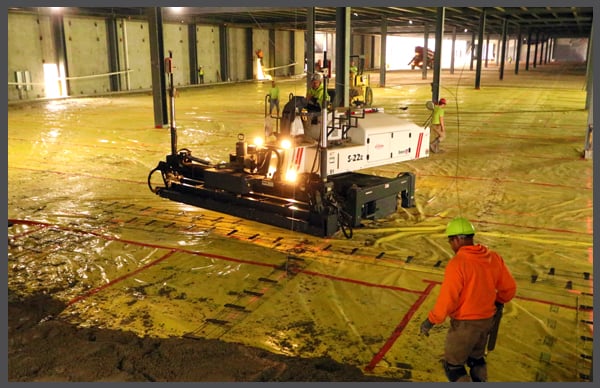 Stego® Wrap 10-Mil Class A Vapor Retarder: for this job, they selected the 10-mil Class A vapor retarder; the choice helped them control costs over the massive two million square feet of the project while adhering to critical performance standards of ASTM E1745. Not only does this ensure the high level of protection against water vapor diffusion but provides a puncture resistance and tensile strength powerful enough to withstand the weight of countless concrete mixers and a massive laser screed machine that would be working on top of the material during concrete placement.
Stego® Tape: in the wide-open layout of the fulfillment center – with minimal penetrations and only steel beams to detail, Stego Tape's low permeance and ease of installation helped quickly seal the seams of their installation.
The Results: Side-by-Side with Stego Installation Support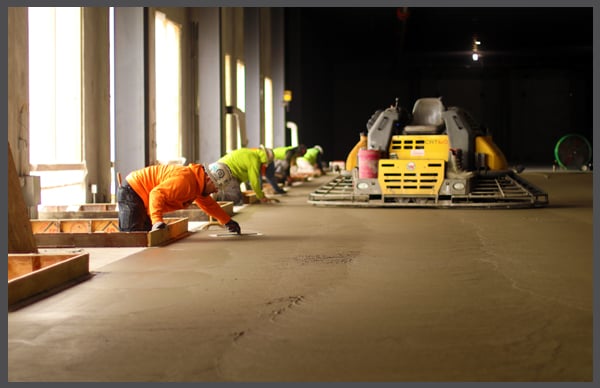 Lewis Construction has made Stego Wrap their go-to choice for below-slab protection since 2006. Over that time, Stego's nationwide team of experts has ensured Lewis and his team always get product in time for installation. Additionally, Stego's Installation Support provides project specific guidance whenever needed.
That project relationship has only grown for Steve Lewis:
"It's the support. We're able to get the product on-time when we want it. [Stego Industries Vice President of Sales] Jeremy Clark has always been a great resource. That relationship created a friendship. You can't be an expert on everything. Calling on Stego to understand what you have to do -- and why you have to do it -- certainly has value. If there's ever a problem or question, they're always responsive."
Stego is proud to be associated with Lewis' industry-leading concrete construction firm. Like Lewis and many other concrete contractors, Stego has always been a family-owned business that prides itself on the strength of its relationships. We've built our company into an industry-leader in many of the same ways: investing in technology and continuing education of our experts and our stakeholders to deliver the highest performing below-slab barrier protection in the world.
---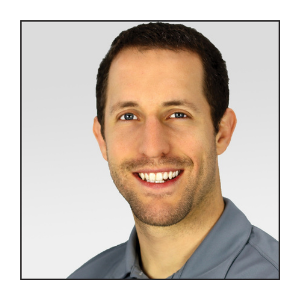 Dan Marks was the former Technical Director at Stego Industries, LLC.
Have the latest post sent right to your inbox.
Enter your email below.