4 Vapor Barrier Specification Issues Preventing Project Success
When You Install a Vapor Barrier Under a Concrete Slab, You Want Clear Instructions from the Start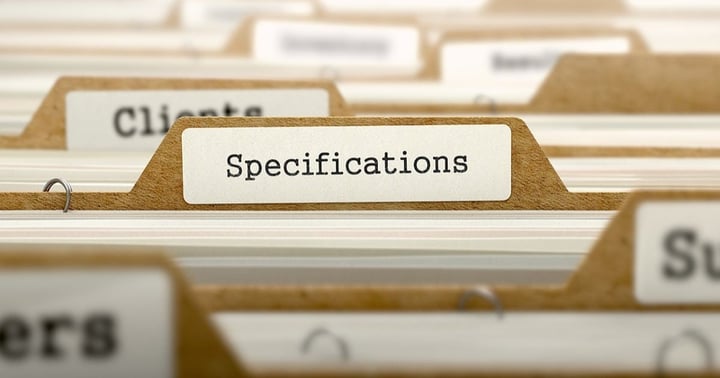 In over two decades of educating the design and construction industry on below-slab moisture protection, at Stego Industries, we've been witness to thousands and thousands of effectively managed and communicated projects. A successful installation of a vapor barrier under slab requires collaboration and communication. And the inverse is also true – we've seen plenty of projects that would have benefitted from much better planning, product selection, oversight and communication to affect a much better result without so many headaches along the way. Think having a vapor barrier and having it installed correctly isn't that serious? Perhaps before diving into this article you should read our blog post about the critical reasons for installing a high-performance vapor barrier.
In this article we'll address the top 4 most common specification issues that derail a below-slab vapor barrier installation, and we will provide you with a checklist to get your next project specification off to a solid start.
4 Vapor Barrier Specification Headaches to Avoid
1. The building products specified don't meet the specification requirements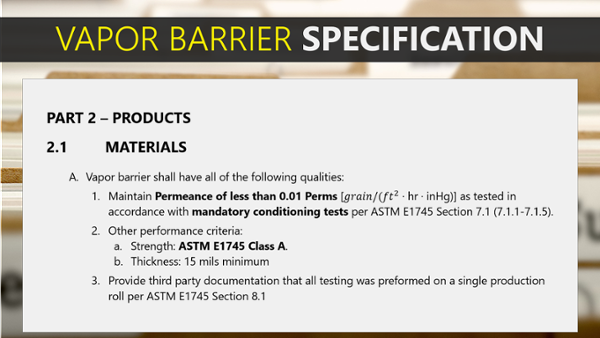 This issue is listed number one because it is without a doubt the most common error specifiers make. By now the evidence for the performance criteria that should be specified for a vapor barrier under a concrete slab is in abundance.
White papers, guides, published articles, and industry expert opinions leave little doubt that the threshold for performance is ASTM E1745 Class A with 0.01 perms before and after conditioning. Specifying this criteria has become the best practice for architects and structural engineers who keep up with industry recommendations, but in far too many cases there is still a disconnect between prescribing the right criteria and listing products that meet the performance criteria.
Likely, the causes for including products in the specification that don't meet the thresholds specified are benign. One probable reason is that software specification programs list products in the below-slab vapor barrier specification as "available manufacturers" even though the products listed do not meet the criteria the software program specifies.
Another reason it happens is because product manufacturers and contractors make substitution requests for the same products over and over so eventually it might just feel easier to add the product to the specification so as to avoid all the incoming traffic and paperwork – but of course that shouldn't be done if the product in question doesn't meet the specified criteria in the first place.
2. The vapor barrier is simultaneously specified in Division 3 and Division 7
The under-slab vapor barrier can be Specified in Division 3: Concrete and Division 7: Thermal and Moisture Protection. The problem is, sometimes it is specified in both and almost always with different criteria within the same project specifications. ERROR ALERT: this conflicting set of criteria is of course a problem.
In instances where there are conflicting specifications for the same scope of work, it is a likely risk that bidders will be unsure which set of criteria to follow. At minimum this will lead to calls for clarification; at maximum (if not discovered along the way) it could lead to the work being performed counter to how one party intended, possibly leading to project failure and litigation. If discovered early in the bidding process, an addendum can be issued clarifying the intention so all bidders can complete their bids off of the same set of qualified information. If it isn't discovered before the bid is awarded, this type of conflict could lead to work order changes and disputes about who is the primary party responsible.
Similarly, the architect/engineer could state that when there is a conflict or discrepancy between a reference standard and the specifications or another referenced standard, the more stringent requirements shall apply. Such statements cannot be relied upon to handle all possible conflicts, however. It is important for the architect/engineer to attempt to identify duplications and modify references to eliminate contradictions.
So, how does this error occur in the first place? Typically, it has been our experience that when the specifications are doubled up in Division 3 and Division 7, the specification provided in Division 3 was from the structural engineer who considered this in the scope of their concrete related work and the specification in Division 7 came from the architect, who considered this in their moisture protection scope of work. Neither Division is necessarily wrong - placement in either is consistent with CSI MasterFormat, and so this double-up, although conflictive, is understandable. Point is, if not avoided, it can turn into a headache for all parties very quickly.
3. The vapor barrier specifications don't match the details (and vice versa)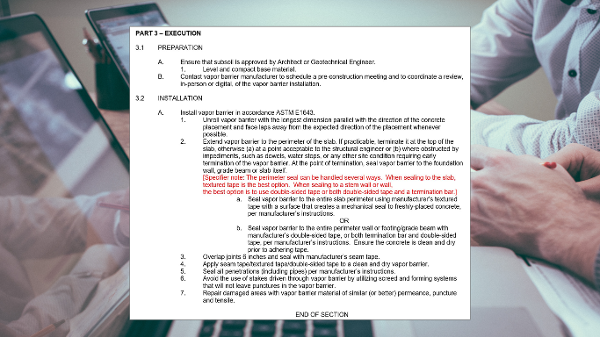 Similar to the confusion created by dual specifications in Divisions 3 and 7 not matching, the specifications not matching the details can pose just as big of a problem. Wherever the installation instructions end up being specified, they need to mirror what is being detailed, AND, this is a big "and", the details need to correctly address site specific conditions.
Frequently though, the specifications (including installation instructions) are copied and pasted from previous projects while drawings are catered to specific site conditions. Manufacturers of vapor barrier products provide broad installation instructions to accommodate general site conditions and to conform as closely as possible to the requirements of ASTM E1643 – Standard Practice for Selection, Design, Installation, and Inspection of Water Vapor Retarders Used in Contact with Earth or Granular Fill Under Concrete Slabs.
Because these instructions are written broadly, they should only serve as a guide that the design professional, on a job-by-job basis, caters to the specific site conditions just as they should do with the drawings. Inconsistency between the two documents can lead to uncertainty on the project site about the design professional's wishes, and sorting it out can lead to otherwise avoidable delays. Common areas of the installation that are inadequately covered by details and/or the specification are column blockout areas and perimeter terminations. Perimeter terminations typically have many conditions within the same project that all would need to be addressed uniquely, and as a result, one drawing would very rarely be sufficient to address all of the conditions. Check out our 5 tips and tricks for sealing the terminating edges of the vapor barrier.
4. Missing out on site specific manufacturer support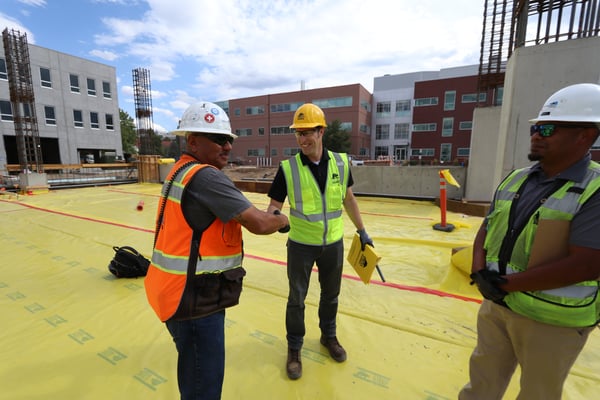 Well-trained product representatives providing subject matter expertise can be an enormous value add to a project. Many of the previous pitfalls listed can be sleuthed early in the design process by a well-trained eye who reviews the under-slab vapor barrier scope of work on a consistent basis. This can occur early in the project planning process. And, worst case scenario, if these errors aren't identified and corrected in the design process, there's still an opportunity to reset expectations during a pre-construction meeting before the actual work has begun. In that vetting conference, many of these inconsistencies can still be rectified before any actual harm is done.
Although it shouldn't be relied upon as the sole means to achieve a good installation, a well-trained representative can sit with the design team, general contractor and concrete contractor and go detail by detail discussing project specific conditions and how to best address them. This will give all parties involved confidence that when the vapor barrier installation begins, it will be done based on an agreed upon set of expectations. Above all, these services are typically offered free of charge by suppliers focused on positive project outcomes, so why not have the backstop of a knowledgeable party on standby to clear up any inconsistencies that may have developed along the way?
---
Specification Tips for Setting Up a Successful Vapor Barrier Installation
Here's a quick list of items to check for before you publish your next vapor barrier specification so that you can ensure you have done everything you can for a smooth and successful below-slab vapor barrier installation:
Have I confirmed the products I listed all have a data sheet and test results with evidence supporting they meet the criteria I specified?

Have I made sure the vapor barrier specification is only listed in one division?

Do the installation instructions I specified match the details I provided?

Have I specified a pre-construction vapor barrier meeting and required an installation review?
Last but not least, it is always a good idea at the conclusion of every project to have a postmortem review. While it's true that no two project sites are the same, taking what you learned from the project that you just completed and making corrections to your guide specs and details for the next project should give you a leg up from making the same time-wasting mistakes again. Guide specifications and guide details are a good starting point, but they are not intended to standalone from project to project. That being said, updating these "templates" would certainly save you and your firm the headaches from bidders and product reps inquiring about the same inconsistencies over and over.
And, if your next project would benefit from talking to a below-slab vapor barrier subject matter expert, Stego's nationwide network of helpful representatives is happy to help you get started on the right foot.
---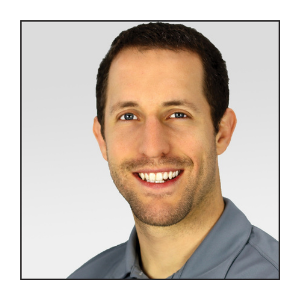 Dan Marks is the Technical Director at Stego Industries, LLC. He has been a part of the Stego team since 2007 and started out as the Southwest Regional Manager before transitioning to the Technical Department and his current role as its director. Dan has a direct role in the conceptualization, research, design, and testing of products. He also works closely with other departments to lend his technical expertise in training the sales team and building supportive relationships with suppliers and customers.
moisture protection, vapor barrier, ASTM, concrete construction, flooring failures, below-slab, installation, Stego Wrap
Have the latest post sent right to your inbox.
Enter your email below.