Does Crawl Space Encapsulation Add Value to Your Home?
Additional Storage Space and Better Efficiency Wows Prospective Homebuyers When Investment Property Developer Encapsulates Crawl Space on His Own
Jeff Barnett has been in the investment property game for some time, but a three-bedroom, 1,900 sq. ft. home in Temple, Texas represented the first time he's truly gone on his own: a solo project.
And there was a lot of work to do.
"A full gut job – down to the studs," Barnett said. "We replaced everything but the initial framing."
And he means everything: plumbing, electrical, roof, and let's not forget one critical area – the foundation of the home. A hot and humid crawl space represented an opportunity to try something new.
"I really wanted to kick things up a notch in every area," he said. "The crawl space was one of those things I hadn't messed with before, but I had seen where people had encapsulated them."
THE CHALLENGE:

Can You Really Encapsulate a Crawl Space Yourself?

A key resource Barnett trusted to gauge the feasibility of the work was Matt Risinger's popular YouTube Channel, The Build Show. He knew that doing the work himself could save thousands of dollars in labor.

In other places, he had seen people encapsulating their own crawl space, but never mentioned where or how they sourced the material.

He knew he was working mostly with bare dirt beneath the floor, but also knew he might run into some rough rock
THE SOLUTION:

StegoCrawl® Crawl Space Encapsulation System




Having learned about Stego's products from the Build Show, Barnett started browsing through the installation instructions and specs. He decided on StegoCrawl Wrap 15-mil Vapor Barrier and its accessories for added durability in case he found surprises in the earth below the investment property.

StegoCrawl's online resources and videos empowered Barnett to appropriately estimate the amount of material he needed and provided him with the ability to purchase the material directly through Stego's eCommerce portal.

Because it is a system engineered specifically with crawl spaces in mind (particularly in existing homes), Barnett was able to do the work himself. He started with StegoTack Tape, a double-sided sealing tape, along the perimeter foundation wall and numerous piers holding up the home, then attached StegoCrawl smaller perimeter rolls to easily detail the walls and piers before laying out larger rolls to cover the exposed ground of the crawl space.

The result looked downright professional.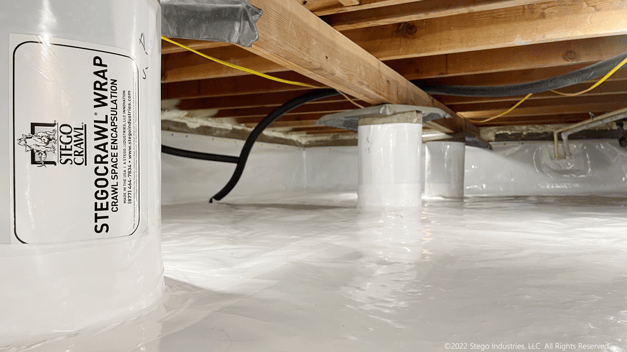 "It wasn't until I closed the vents that I realized that this was a conditioned space," Barnett said.
StegoCrawl's extremely low water vapor permeance, combined with its durability and Life of the Building Warranty can help take a dark, dirty, hot, and humid space beneath the home and transform it into a bright, dry, clean, and usable space, an important step in a closed and conditioned crawl space.
This integrated approach to crawl spaces can get rid of the musty, mildewy smell that can diffuse upward into the house, improving a home's overall indoor air quality. And reducing water vapor diffusion from the soil can help improve a home's long-term performance, durability, and energy efficiency of the HVAC system
After long workdays on his first solo project, Barnett found another benefit.
"It's a big calming space, big and white, silent," he laughs. "There were a couple of days where I just laid down there to relax."
THE RESULT:

An Uncommon Feature of an Open House Adds Value to Sale

In the spring of 2021, Barnett took advantage of a hot real estate market to list the completed renovation for sale. He even included the encapsulated crawl space in the listing.
At open houses, Barnett also made sure to open the hatch inside the home that accesses the crawl space, to show off the bright, clean space below. The unique feature got lots of questions from prospective buyers.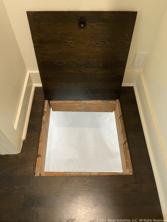 "They were blown away about how it looked down there. One potential client was asking about extra closet and storage space, and we pointed out the entire bottom of the house," Barnett said.
Typically, a feature of restored, older homes, Barnett got an education of the building science behind encapsulating a home's crawl space and added another arrow to his quiver of investment property development.
"The perception (in the industry), until now, is that if you don't have (vented/outside) air down there, you're going to have (moisture) issues," Barnett said. "Of course, (we now know) it's the inverse. In a hot and humid climate, (if you allow that hot and humid air in), you're going to get issues."
---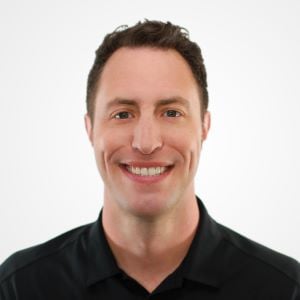 Tom Marks is the Business Development Project Manager with Stego Industries, LLC. He has been with Stego since 2007, serving many years as the Rocky Mountains Regional Manager. Now, his focus is geared toward vapor barrier solutions for new and existing homes as the Product Manager of the StegoHome and StegoCrawl brands. In addition, Tom serves as Sustainability Manager, overseeing Stego's leadership in holistic product and corporate sustainability. Tom enjoys working with a wide range of project team members and customers to incorporate effective sub-slab vapor protection and create healthy, sustainable homes and buildings.
Have the latest post sent right to your inbox.
Enter your email below.